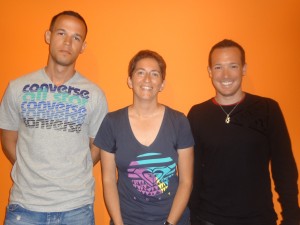 In the spring we launched a student ambassador program at EC Miami and because it's fall again and we have more long-term students, we are excited that we will be starting up the student ambassador program again! The advertisements about the program are posted around the school, but we thought we would give you a little more information about this great program and why you should apply.
The best place to find information about the program is on the information sheets posted around the school. Kaitlin will also be announcing the program tomorrow in your classes. Student ambassadors are people who represent EC Miami and help the EC Miami staff to continue to make this school a great place to study English. To find out more about the program, you can read our previous blog post or talk to the Cambridge teacher, Reese, who is the leader of this program. Remember to check the posters to find out if you meet the minimum requirements to participate.
Now, we want to give you 3 reasons why YOU should be a student ambassador.
1) It is a great opportunity to meet all of the new students and make even more friends while you are here in Miami. Many times you get to know a group of friends and always talk to the same people. In this program, you will join the students on the welcome lunch and Miami Beach walking tour and get to know them. You will also be able to give new students some great advice about your favorite things to do in Miami.
2) You have an opportunity to lead activities and your ticket to the activity would be free. We want to know your suggestions, so you can also give your ideas for the activity calendar. Additionally, you have the opportunity to have your writing published on the blog, which is a great way to show your English skills to your friends, family, or maybe even your company!
3) Many people think the third reason is the best. You will meet on a weekly basis with your advisor, which gives you more 1-to-1 contact with an EC staff member. After you finish the student ambassador program and leave EC Miami you will receive a special certificate from the EC Miami Center Director as well as a Letter of Recommendation. This could help you in the future when you are applying to university or for jobs.
What are you waiting for? Grab an application from the front desk and apply today to join this fantastic program! You must submit your application to Reese or Kaitlin by this Friday, September 28th.
Comments
comments