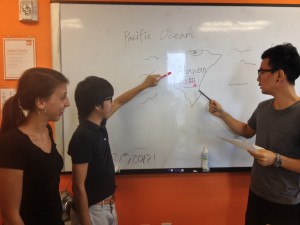 When you study English at EC Miami, we care about you as an individual. We care about you so much that we allow you to create your own country in class! During our Get Talking class, the students were discussing politics and the differences between various countries and they decided that, instead of choosing one of the already-existing countries to live in, they would make their own.
The students worked in teams to discuss important details about their country including the name, location, and political system. Juan also challenged his students to think of a Bill of Rights for citizens of the country and to create 5 laws for the country. The teams had to work together to make these difficult decisions and, although there were a few disagreements, they compromised in the end.
After determining the most important information about their newly-created country, the students made a presentation to the rest of the class. It was very interesting that every single group stated that one of the most important laws for their country was freedom of speech. Great work, Get Talking students!
Comments
comments