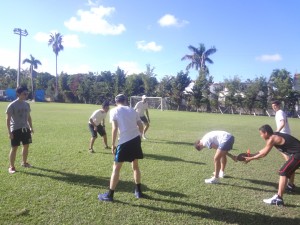 After Mark's football lecture a few weeks ago, many of our students have been getting excited about this new American sport that they learned about. To encourage EC Miami students to continue embracing American football while they study English in Miami, we decided to have a touch football game. During this game, we wanted to teach the students the rules of the games and let them try their new sport out.
Juan, the leader of the activity, taught them important football words like "hut" when you snap the ball and "huddle" when you meet as a group to talk about the next play. Rafael, from Brazil, was the quarterback because he was the best at throwing and everyone else worked together as blockers and runners. There were no "real" positions, but it was a lot of fun.
Jongmin from Korea said it was his first time playing football. He said, "I have to quit smoking because it's hard to run and block in American football. It was a good time because I have never tried a football game before, especially American football. I think someone needs to put a big umbrella over the game to get rid of the sun. It was interesting!"
So, it sounds like the EC Miami football team might not be ready for a real competition yet, but the scrimmage was a lot of fun and a good learning experience!
Comments
comments