We are happy to announce that after receiving quite a few fantastic applications, we have chosen our student ambassadors for fall/winter 2012. We announced the winners at Friday's graduation and they are: Leo from Taiwan, Rosaria from Venezuela, and Michelle from Switzerland.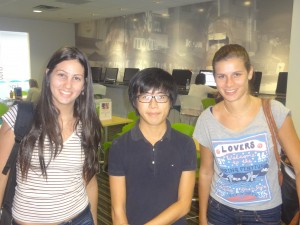 Although we had a lot of great applications, we had to pick three and there they are! Later this month we will give you more individual information about each student and their suggestions for new students in Miami. If you have any questions, these are the three people to look for and talk to!
To start  out we would like to tell you why each of these great EC Miami students said they wanted to be an EC Miami Ambassador.
Rosaria: "I want to be an EC Miami Ambassador because I know how fresh students feel when they are new in a course, in a city, and most of all in a country. I want to give them the opportunity to talk with someone who has been in their place. I believe I could do a good job because I like to meet new people, especially if they are from different parts of the world. Also, I like to take photographs, go out bowling, go out to the beach, and enjoy many of the activities that EC offers. Besides, my English is good and being an ambassador will help me to improve and help the new students to fell more comfortable with their new home."
Michelle: "I think it's a good way to improve my English-speaking and to learn how to organize things and also to help other students to improve their English."
Leo: "I want to improve my English and make new friends. Also, I can introduce something for new students. The most important thing is to have more chances to practice English."
So, if you see these students say congratulations and make sure you talk to them in English!
Comments
comments