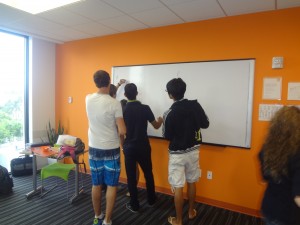 Our Advanced students at EC Miami are poets and they don't even know it! Edwin taught the Advanced class about poetry during a class this week. The students were asked to write poems using the 5 senses (smell, taste, sound, touch, hear). The activity was not only creative but also a good opportunity to work on changing between different parts of speech. For example, they learned how to change the words from adjectives to nouns to verbs (i.e. happy, happiness, to be happy). Let's read some of their work and applaud their creativity!
Hope by Ludmilla from Germany
Hope is bright and colourful
It smells like the first flowers in the spring
It tastes like a home-made cake
It sounds like laughing with friends
It feels like coming home
It lives in every loving heart
Pride by Rosaria from Venezuela
Pride is bright
It smells like a new car
It tastes like victory
It sounds like people clapping
It feels like doing everything right.
Violence by Volker from Germany
It smells like prison
It tastes like fresh warm blood,
It sounds like painful shouting
It feels like there is no other way out
Comments
comments