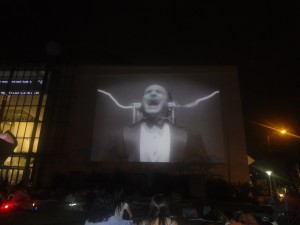 On Wednesday, some of our EC Miami students joined Elisa and Juan to watch a movie under the stars. The outdoor movie program at the Miami Beach Soundscape has just begun for this season after taking a break during the super hot summer months. The students watched "The Artist" on blankets in the park and brought their own drinks and snacks to have during the film. Most people enjoyed the movie, but a few people got a little sleepy because, as many of your know, "The Artist" is a silent, black and white movie.
This fantastic event takes place every Wednesday at 8 p.m. in the park (as long as it's not raining), but you might want to get there a bit early to claim a spot on the grass because it gets very crowded. These movies are popular for tourists and locals and the best part is that they are free! It's also a relaxing way to spend a night out if you want to take a break and avoid a crazy evening at one of Miami's famous nightclubs. Students always ask us what to do if they are under 21 and this is a great idea for a night out. Just stop by Publix or Whole Foods and pick up a picnic dinner and some drinks and you are all set!
We plan to put some more of the outdoor movies on our activities calendar in the next few weeks. You can go by yourself without EC Miami's help too! To find out the list of movies playing the next few weeks, click here. Next week is the Hunger Games if you want to watch a movie adaptation of a popular book and the fight between young people to survive. Happy movie watching!
Comments
comments