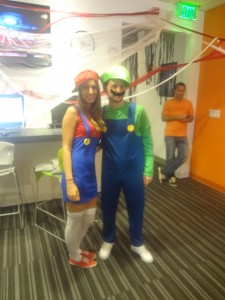 1) Not all Halloween costumes need to be scary. Although witches and zombies are popular costumes, princesses and superheroes are also common sights on Halloween. You don't always need to scare other people with your costumes. You could also make them laugh or smile.
2) The best place to get Halloween costumes on Miami Beach is Ricky's, which is located at 536 Lincoln Road. Another great place to go is Party City in Midtown. Party City is "off the beach," but it has a huge selection and is very well-known.
3) You don't need to spend a lot of money. If you are creative and have any arts and crafts skills, it is definitely possible to make your own costume. For example, you could use cardboard paper to make yourself a postcard, a dice, or even an Oreo cookie!
4) Group costumes are always fun. Talk to your classmates and friends at EC Miami about a group costume. Try to be creative, but some funny ones are the Spice Girls, Flinstones, Teletubbies, and characters from Super Mario Brothers video game.
5) If you don't dress up on Halloween, you will be the one that everyone stares at. Lincoln Road becomes a giant Halloween party at this time of year, so if you are not in costume, everyone will be looking at you! The holiday is for both kids and adults, so get into the Halloween spirit and wear a costume!
If you want more help or information about Halloween costumes, join Elisa on Thursday at 2:45 for Chill and Chat. Start brainstorming! We are excited to see what you come up with!
Comments
comments