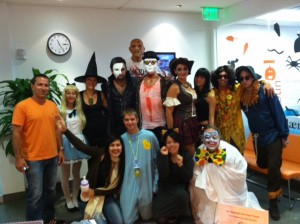 Yesterday EC Miami celebrated Halloween and everyone showed their spirit and creativity! Classrooms were decorated and the student lounge came alive during the lunch hour with costumes of all kinds.  Babies, pirates, cats, witches, and scary masked creatures competed for the Scariest Costume, Most Creative Costume, and Funniest Costume!
The Most Creative went to Alice in Wonderland, the funniest went to the cookie monster, and the scariest went to the Joker!  Teachers led fun carnival games as well, where winners were awarded Candy!  Could you pick up the marbles with the chop sticks?
Trick or Treat was definitely a part of the celebration at EC Miami, and English learning was all part of the fun!  Classes paired up and created games for each other.  The Elementary and Pre Intermediate classes played vocab bingo using candy corn, and the Upper Intermediate and Advanced classes were putting their English to use in a scavenger hunt.
Let us know what your favorite Halloween costume was!
Comments
comments