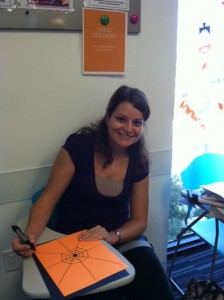 EC Miami's Pre –Intermediate and Advanced classes wrote scary stories about spending the night in a Haunted House on Halloween!  Great writing practice in the spirit of Halloween!
Marion from Switzerland wrote a great story.  Check it out!!
Was it really a good idea to go to the haunted house? It looked already hideous from the outside.  The curtains were blowing out of the windows and all the walls were full with bats and horrible spiders.  Ghosts were flying around and skeletons were hidden in every corner. 
The inside of the haunted house is even worse.  All these gruesome noises like howling, shrieking and cackling.  It's so scary.  Once you're in, you're never sure how to come out.  Maybe a witch or warlock will keep you.  So consider well if you are ready for this adventure or not!
Comments
comments