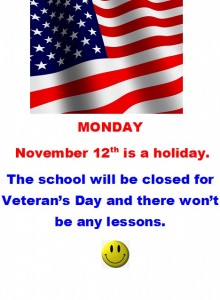 On Monday, EC Miami, and all of the other U.S.-based EC schools, did not have class because of Veteran's Day. Although Monday was November 12th, Veteran's Day is actually on November 11th but, when the important day falls on a weekend, schools and some businesses have the following day off. Some students asked questions about this day last week and we thought we would include some information on the blog for those of your who are still confused about the meaning of the holiday.
A veteran is a person (man or woman) who has served in the military at some point in their life. The military in the U.S. (and possibly in your country) has multiple branches (army, navy, air force, marines), but all of the people who have served in the branches are considered to be veterans. On Veteran's Day people are supposed to honor the men and women who served the country and remember their sacrifice. Some cities, such as Miami Beach, have a parade, while other cities might have more serious memorials at grave sites. President Obama went to Arlington National Cemetery, which is a cemetery specifically for people who have served the U.S., and he visited some grave sites, including the famous Tomb of the Unknowns.
In the U.S citizens are not required to serve in the military, so the people who join the armed forces get a lot of respect from the American people. In some of your countries, military service is mandatory, which means that people do not have a choice. Whether the service was voluntary or mandatory, if you served in the military, and we know many of our students of EC Miami have, Veteran's Day is a day to say "thank you" to you.
Comments
comments