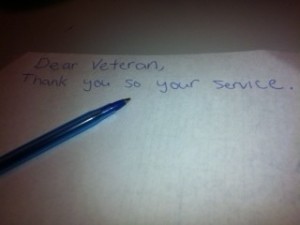 The FCE class at EC Miami practiced their letter writing skills last week by writing letters to veterans in the spirit of Veteran's Day. After learning a little bit about the origins of the holiday, the class decided to write letters similar to those that people write for Operation Gratitude. To find out more about Operation Gratitude, click here. If you would like more information about the meaning of Veteran's Day, read our blog post.
Dear Veteran,
We are two students from Switzerland and we hear about you while talking in class about the Veterans Day. We are very thankful to have people like you serving for their countries.
We would thank you very much for your services as a Navy pilot for the World War I. You are like a hero to us. Leaving your country, your family and your friends for going in a dangerous country to help other people is incredibly courageous and shows a huge strength from you. We admire you a lot for that.
We also are curious about which branch of the army you were in. Is it hard being away from your family for so long? It would be awesome to hear from someone who fight for his country. Thanks again for everything!!!
All our support,
Marina and Margaux
Comments
comments