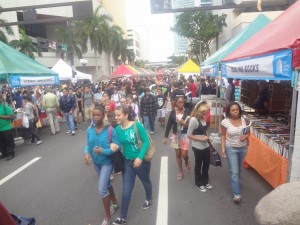 Do you want to do something funandeducational this weekend? It is possible to do both at the Miami International Book Fair located in downtown Miami. This festival happens once a year and it is a great place to find new books in English to read, talk to native English speakers, and even see performances and try new street foods.
Today, the FCE class at EC Miami went to the fair to try to interview native speakers about their reading habits. Surprisingly, it is quite easy to start a conversation with native speakers in this setting because many of the people at the fair are authors who are not famous yet. They want to promote their books and talk to potential customers, so talking with these people is a great way to practice your English in a natural setting outside of class.
In addition to the opportunity to speak more English, you can also buy really cheap books. Some books only cost $1 and there are also different types of publications like magazines, comic books, and older books that are difficult to find. It is always good to read as much as possible in English to increase your vocabulary and the Miami International Book Fair will help you to do that.
The fair is located on the campus of Miami-Dade College at the Wolfson Campus. For those of you who have been to downtown Miami before, it is close to Bayside Marketplace. For more information about the festival, prices, and times, go to: http://www.miamibookfair.com/. Happy reading!
Comments
comments