Have you seen a lot of guys with extra facial hair this month?
Why you ask??
November is also known to many as Movember!!
What is Movember??
Movember is an initiative that sees men all over the world growing a moustache (or 'mo') in order to raise money and awareness for men's health issues, specifically prostrate and testicular cancer.
How did the men get started?  It was easy!  Once registered at movember.com, each 'Mo Bro' must begin the 1st November with a clean-shaven face. Then, for the entire month of November, each Mo Bro must grow and groom a moustache!
The men of EC got involved in this great initiative too!
Male members of staff at EC Vancouver, EC Toronto, EC Cambridge, EC Brighton and EC London have all joined the cause to raise money and awareness
If you wish to support this worthy cause, then you can visit the Movember website and donate for an individual or a Centre.
For more information, go to www.movember.com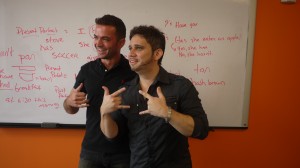 Comments
comments