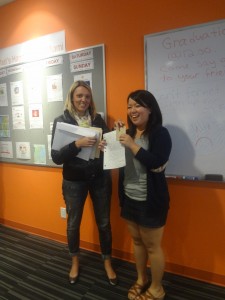 Konomi Ishida was our winner for the best essay about the Thanksgiving Day lecture.  Read below to see how this star shined!
Thanksgiving day is a national holiday in the U.S.A. and they enjoy their time with family.  On the day, they eat turkey, pumpkin pie, cranberry sauce and corn.  In 17th century, Pilgrims lived in England.  they were searching for freedom so they left on the Mayflower that is ship in 1620.  The journey was not happy, bacause a lot of storms hit the ship and many people had a sick.  They had many difficulties in the New World.  In first winter, half of them died, so it was so hard for them.  After that, they met the Native Americans.  And next year, the Pilmgrms and the Native Americans celbrated it together, but then they fought many times, so tthe Pilgrims aggravated relations with the Native Americans.
In 1983, Sarah Hale sent a letter to the govenment to make a national holiday.  And Franklin Roosevelt made a long national holiday about one week.  It was called Franksgiving day.  Speaking of modern traditions, are Macy's Thanksgiving Day Parade in New York.  It started in 1924.  the event is really famous in the USA.  As you can see the day (November -4th Thursdsay) is very important for the Americans.
Konomi Ishida
Comments
comments