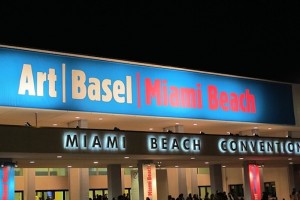 ART heard around the world. Last weekend, Dec 5th through Dec 9th, Miami Beach, Florida hosted the 12th edition of Art Basel. Art Basel is the most prestigious art show in the United States. "More than 260 leading galleries from North America, Europe, Latin America, Asia and Africa will take part, showcasing works by more than 2,000 artists of the 20th and 21st centuries." The world's most respected art dealers showcased exhibitions, galleries, performance art, public art projects and video art featuring both renounced artists, as well as cutting-edge newcomers. Retrieved: December 11, 2012 http://miamibeach.artbasel.com/
Talented artists and art lovers from various international countries fled to Miami Beach for the weekend to take part in Art Basel. It is known as one of the "favorite winter meeting place for the international art world". Students at EC Miami were strongly urged to take part in all the creative excitement flowing through the streets near EC Miami.
Seeun Lee, a student at EC Miami, who is originally from Korea, visited the Wynwood Art District on Saturday. "I liked seeing all the people walking around in the streets and also all the bright colors. I went to see the "Food Truck Art", showcase which featured the first Korean food truck I have ever seen". Many students took part in Art Basel and visited the scattered shows throughout Miami and enjoyed seeing artists from their home country.
EC Miami's Academic Director, Elisa Campbell said, "It was my first time attending the actual exhibition in the Miami Convention Center, and not just the famous Art Basel parties. It was an extraordinary experience."  Art Basel is held every year in Miami and truly offers something for everyone. EC Miami and the entire EC Miami staff urges all of our present and future students to showcase their creativity and inspiration through art.
Comments
comments