We know that our students at EC Miami are from all over the world and celebrate many different holidays, but because it's Christmas Eve we wanted to write a fun post giving information about how Christmas in Miami is different from Christmas in the rest of the U.S. You may know some of these reasons, but keep reading to find out about some traditions in the Sunshine State.
1)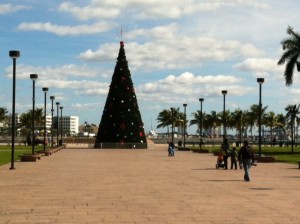 It doesn't feel like Christmas. Today is Christmas Eve 2012 and it is about 75 degrees Fahrenheit and there is definitely no Frosty the Snowman. But, that makes it special because you can go to the beach instead of going skiing!
2)      Palm trees can be Christmas trees too. Although many Floridians get traditional Christmas trees for their homes, many parks and pedestrian streets have their palm trees decorated. Sometimes you can even see a traditional tree and a lighted palm tree right next to each other.
3)      We use fake snow instead of real snow. If you come from a cold country and are missing seeing the white snowflakes, you can go to a place like Dolphin Mall for the nightly "snowfall". The mall has an hour every night when fake snow falls from the ceiling to make it seem more Christmas-y.
4)      Some people decorate their houses with holiday lights, but more often Miamians choose to decorate their boats. Every year in December Miami, Fort Lauderdale, and other coastal cities have boat parades to show their Christmas lighted boats. The boats sometimes play music and have Santa figures on them too!
5)      We have "Santa's Enchanted Forest." While most Northern states in the U.S. are snowed in, we are not, so we have a festival every year that goes from around Thanksgiving to New Year's. This fair has outdoor rides and carnival games with a Christmas theme.
We still have tradition things here like the Nutcracker and sitting on Santa's lap, but Miami offers some new and exciting traditions to celebrate the holidays too!
Comments
comments