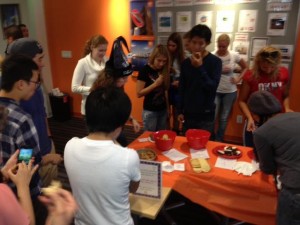 Last week on Friday to celebrate the beginning of the holiday season and the end of classes at the school for two weeks, EC Miami held a cookie swap. This American holiday tradition involves bringing in your favorite type of cookies (baked or bought) and then swapping then and sharing them with your friends. During break, we had a large variety of cookies set up in the student lounge and everyone got to try many different flavors. It looked like our students and teachers were better buyers than bakers, but we still were happy to have cookies. We also had student DJs help to choose the music for the celebration, which included a lot of Mariah Carey holiday songs!
To make things more interesting, we decided to have students vote for their favorite type of cookie. There were almost 12 different choices with a table full of chocolate, sugar, chocolate chip, cinnamon, and more! In the end, our smiley teacher, Lynnette won with her delicious cookies. She deserved an extra prize too because of her awesome holiday hat that said she was "naughty." We disagree though because she is great!
The cookie swap was a great way to start the holiday season and many of our students left for the day with stomach aches from eating so many sweet treats!
Comments
comments