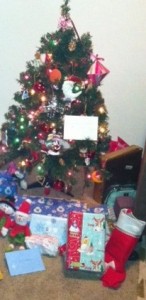 We know that Christmas is now over, but there are still some remaining holiday celebrations the rest of this week and for New Year's. To help you understand some things about American holiday traditions we wanted to give all of our EC Miami friends some vocabulary related to the season. Here are just a few important and/or interesting words to know at this time of year.
1) Stocking – The sock that children traditionally hang near the fire place. According to some Christmas traditions, this red-colored sock is filled with small gifts and chocolate by Santa.
2) Carolers – People who go from house to house in a neighborhood and sing holiday songs such as "Jingle Bells." This activity used to be more popular in the past than it is now, but some people still do it to make people smile and "spread good cheer."
3) Menorah – This is a candle holder used for the Jewish holiday called Hanukkah. People who celebrate Hanukkah light a candle for each night of the holiday and exchange gifts. There are some large menorahs around South Beach, such as the one near the entrance to the MacArthur Bridge at 5th Street.
4) Ornaments – These are the decorations that are put on the Christmas tree. Families often put various types of decorations such as colorful balls, stars, and fragile ornaments with some personal significance, such as a basketball for a sports fan.
5) Nutcracker – This is the name of a famous Christmas ballet, but it is also a name for a small statue. This small statue looks like a little soldier and he often sits as a decoration around the houses of many Americans, but Nutcrackers are also useful. They have a special lever in their back that goes up and down so when you put a nut, such as a walnut in the Nutcrackers mouth and move the lever, the little soldier cracks open the shell of the nut for you!
6) Mistletoe – This is a small plant with leaves and berries that is related to a funny, American tradition. If someone holds a piece of mistletoe over your and his/her head, you are supposed to kiss that person. Sometimes at a holiday party, the host will put some mistletoe in a doorway to make people who stand below it kiss also. So, be careful of mistletoe or maybe carry it in your pocket if you are looking for a holiday kiss!
7) Eve – During the holiday season, we have a lot of "eves". "Eve" means the day before an important day. For example, Christmas Eve is December 24th (the day before Christmas) and New Year's Eve is December 31st (the day before New Year's Day).
8) Countdown- On New Year's Eve people get very excited for the next year, so they like to make the excitement even greater. To do this, many people will count down the last 10 seconds of the year. So, at 11:59:50 on Dec. 31st, you will hear people start yelling 10-9-8-7…this is the countdown to 0 and the New Year.
9) Confetti – This is a word that is related to New Year's Eve. The night before January 1st many people go out to parties and clubs. When the countdown ends and everyone yells, "Happy New Year," confetti often falls from the ceiling or the sky. Confetti is usually little pieces of colorful paper that are like a rain shower of fun.
10) Bubbly – During many celebrations people will celebrate by drinking champagne. Another slang name for champagne is the bubbly. This name comes from the fact that champagne has a lot of bubbles!
We hope you learned some new holiday words and don't forget that even though there are no classes at EC Miami this week, you should continue to learn as much in English as you can!
Comments
comments