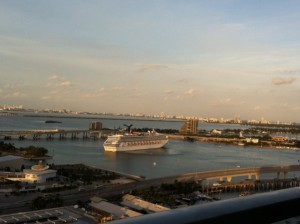 To continue with our goal of giving our EC Miami friends as many fun ideas for things to do during your holiday break in Miami, we wanted to tell you about the Port of Miami. The port is located in downtown Miami near Bayside and it is the location where many cruises depart for the Bahamas and other Caribbean destinations. Some of the large cruise companies that leave from the Port of Miami are Carnival, Norwegian, Royal Caribbean, and Disney.  If you are anywhere along the bay in downtown Miami or at South Pointe park, you might see some of the enormous ships leaving or arriving into the port.
Many of our students at EC Miami are eager to go on a cruise during their time here. EC Miami does not arrange cruises because the immigration laws are different for each student and visa type. Before you decide to go on a cruise, make sure that you talk to your embassy and consult Dipshika about the rules for you and your visa.  If you are okay to go, the next step is to decide where you want to go and for how long.
There are many ways to search for possible cruises: you can go directly to the cruise line you are interested in or you can go to a third party site like Expedia or cruisedirect.com. Many of these websites allow you to search by the length of the trip or the destination. You should always make sure that the cruise is leaving from the Port of Miami because this is the closest place to you.
Another good way to get a cheap price for a cruise is to go on standby. If you have a flexible schedule, you can show up on the day that a ship or multiple ships are departing and try to get on as a standby passenger. It works almost the same as standby for an airplane. There is not guarantee that you will get on the boat, but if you do, the price is usually cheaper and the room is whatever is not filled, so don't expect a fancy suite. Regardless, how you choose to go on a cruise or where you choose to go, it is a fun experience and a different way to travel!
Comments
comments