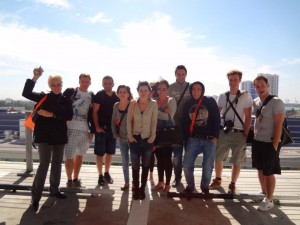 We are happy to announce that EC Miami recently celebrated its one year birthday! We opened about one year ago with our first group of 11 students. A LOT has changed since January 2012 and we are very excited that we welcomed approx. 80 students in January 2013 and we have more than 100 students at the school right now. It's amazing how fast EC Miami has grown! Our first group of students will be happy to know that we  have a coffee machine!
We want to thank all of our students past and present for making EC Miami a great place and we also need to thank our teachers and staff who do a great job of keeping the classrooms fun and educational!  EC Miami hopes to continue to grow in 2013 and we would love to welcome some of our previous students back. You can always come study more and soak up the sun on the beach. 🙂
This Friday at EC Miami we will have a celebration for our school's birthday. Come join us in the student lounge for a birthday party and cake!
Comments
comments