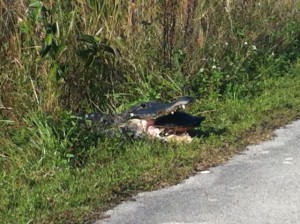 Many of our students decide to make day trip to the Everglades during their time in Miami. The Everglades is a national park that is filled with marshes and wildlife and it is extremely large. If you drive from Miami, on the east coast of Florida, to Naples, on the west coast of Florida, you drive through the Everglades almost the entire way. We have a trip planned to the Everglades this weekend and it is a good way to see the natural area without having to drive by yourself.
People who go to the Everglades usually take an airboat tour. If you go to other locations in the Everglades, such as Shark Valley, you can also go biking. Reese, our Assistant Academic Director at EC Miami, went to the Everglades a few weeks ago and saw a crazy sight. She saw an alligator trying to eat a turtle! The alligator wasn't successful in breaking through the turtle's shell, but it was like watching a nature program. We can't promise that you will see something like this when you go to the Everglades, but it's always possible.
In the Everglades, there are obviously alligators and turtles, but there are also many varieties of birds. In addition there are snakes, fish, and there used to be the Florida panther. The panthers are now very rare and visitors don't get to see them very often. If you go to the Everglades, make sure that you take pictures of all of the exciting wildlife and post them on our Facebook page!
Comments
comments