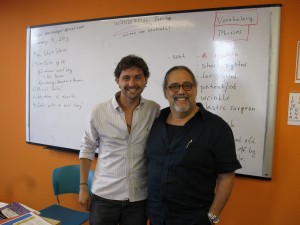 Edwin chose his amazing student Giuseppe to be his student of the month. Giuseppe, who has been at EC Miami for quite a long time, is from Taranto, Italy. He is now in Edwin's High Intermediate class. Keep reading to find out more about Giuseppe!
Student's Miami Recommendation
You should go to Key West. It's amazing how many activities are available: fishing, scuba diving, water sports, sightseeing. Don't forget to get a picture of the "Southernmost Point in the Continental U.S." If you love clubbing, Nikki Beach on Sunday will be the right place.
Edwin's Comments about Giuseppe
The first time I met Giuseppe, he spoke a few words in English, mostly "Hello" and "Yes".  I was substituting for his class that day and as we were working I saw this extraordinary flash of intelligence combined with enthusiasm.  I thought to myself, 'This young man is going to move fast.'  I have since had the pleasure of working with Giuseppe in more than one of my classes and have had the good fortune to be part of his learning process.  He is a very hard worker and has progressed very well. He is now conversant in English.  A 'scruffy' gentleman, Giuseppe is someone I can always rely on to review the grammar rules with style and finesse!
Comments
comments