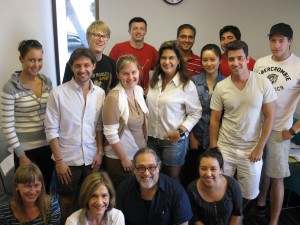 January has been a very busy month at EC Miami, so we are sorry for a belated Teacher of the Month this month. Nevertheless, we are happy to congratulate Edwin for being named our teacher of the month! Edwin, who teaches High Intermediate and Upper Intermediate, is originally from New York, New York, so if you have questions about travelling to the Big Apples, ask him! To find out more about Edwin, keep reading!
Edwin's Miami Recommendation  
My favorite thing to do in Miami, other than to swim in the ocean is to visit Fairchild Gardens in Coral Gables which is the second largest tropical botanical garden outside of Singapore.  They have rare and endangered tropical plants from all over the world.  One of my favorite areas of the garden is the Di Mare Village which has a special climate controlled building which houses rare Orchids and tropical plants. The building houses a jungle and is very hot and humid inside which can make Miami seem cool.  Also, see the Native Butterfly Garden where the plants are hosts (food and shelter) to the many native butterflies of South Florida. These plants are a little eaten up but are often surrounded by hundreds of butterflies.  For some Miami-Cuban flavor head over to the Versailles Restaurant, pronounced 'Versayes', on Calle Ocho.  Everything is good but do not miss the Cuban coffee known as a cafecito: espresso with a lot of sugar, at the end of your meal. Last but not least, go to the Wynwood Art Walk with friends and enjoy the street party in Miami's burgeoning arts district. Oh, I almost forgot, do your homework!
Teacher's English Tip 
When writing 'I' in the first person, it is always capitalized; and I mean it!
Comments
comments