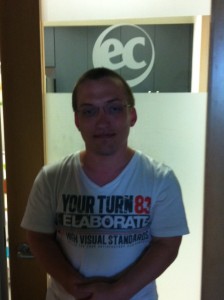 This week we are going to spend some time meeting our new student ambassadors. First, we will meet Adrian, who is from Germany. He is in the Advanced Level and is 26 years old. Why did Adrian want to be a student ambassador? Keep reading to find out!
"I have lots of experience in leading group activities and helping other students, for example, training their communication skills and planning activities. A good motivation, a good communication skills and of course looking forward to meet new people, improve my English and the intercultural communication to round out my course. My contributions [as a student ambassador] would be good team-playing skills, lots of fun, but also seriousness and the willingness to help others."
Adrian loves to explore places outside of Miami Beach, especially Wynwood. Feel free to ask him any questions about Wynwood or anything in the greater Miami area!
Comments
comments