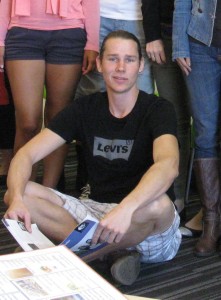 Kathy has a lot of wonderful students, but she chose Marco in the Intermediate class to be her student of the month for February.  Marco, from Switzerland, can  be seen around the hallways of EC Miami smiling, laughing, carrying a skateboard and speaking lots of English. To find out more about Marco, keep reading!
Student's Miami Recommendation
My advice for to go out are Monty's down on 3rd St. or Mangos on Ocean Drive. If you want to meet some local people go north to about 68th St. and join Sandbar or at 74th St. go to Lou's Beer Garden (lounge). The Everglades is definitely a place you have to visit. I also recommend Coconut Grove.
Teacher's Comments
Friendly, kind, down to earth and hates speed dating ;-)! This was his self-description, and it is perfect. He is great student with a positive outlook on life. Marco was bumped up to intermediate a few weeks ago and jumps into everything with an infectious enthusiasm! I am convinced he will tackle the grammar and put "see us" in his past. Congratulations Marco!
Comments
comments