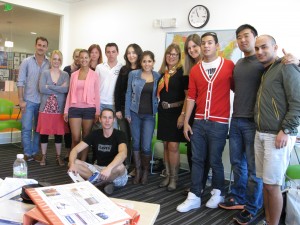 Kathy has already been our teacher of the month for 2 weeks but we haven't posted it to the world on our blog yet.  Keep reading to find out more about Kathy, our English for Work and Intermediate level teacher, and why she is so great!
Teacher's Hometown
Pittsburgh, Pennsylvania OR Frankfurt, Germany
Teacher's Miami Recommendation
My favorite Miami tip is to go to South Pointe Park and the area south of 5th St. on Miami Beach.  I like the outdoor bar at Smith and Wollensky's, and The Room on 1st  St. and Collins Ave. has a great, very relaxed atmosphere and hundreds of beers, wines, and champagne to choose from. Primo Pizza is next door and it is my personal favorite pizza. Bistro 555 (at the Wine Depot) has great French food and wines.
Teacher's English Tip
He-she-it the s goes with 😉 Don't forget to add the "s" for the third personal singular!
Comments
comments