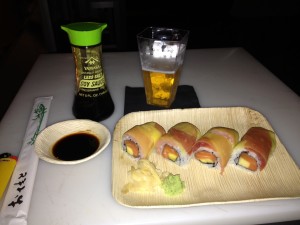 Doraku is famous for the most delicious sushi in town.  I already tried a lot of sushi restaurants but Doraku is my favourite one.
The waiters are very friendly and kind.  We didn't wait for our food for a long time even if the restaurant was quite crowded.  The surroundings are very modern and I felt comfortable.
The food was very fresh and tasty.  We had different sorts of sushi and it was pretty cheap because it was happy hour.  During the time from 5pm to 7pm they offer you a cheap happy hour menu very day.
Doraku is located on the famous Lincoln Road and parking is next to the restaurant.
They prepare the food on a beautiful plate and it looks fantastic.
I really recommend this restaurant and I will enjoy more sushi again.
Sabrina is one of our FCE students at EC Miami.
Comments
comments