Many times, when you f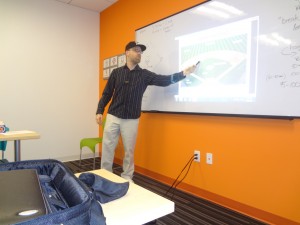 irst come into EC Miami and look in the first classroom, you will see a teacher with weird hair who is either furiously moving around the room or is sitting cross-legged on the table.  Yes, that's Me!
I've been here at the Miami school since we opened in January 2012, and have been lucky to teach all levels.  My teaching career, however, began more than 15 years ago – in Colombia, to be precise.  I was a teacher at the Centro Colombo Americano for close to five years in the capital city of Bogota.  During that time, I was also able to work as an extra in various "telenovelas" on Colombian TV.  If you look closely, you can find me in episodes of Suenos y Espejos, La Mujer del Presidente, and La Madre.  My voice was also used in a movie, La Deuda.  I can't tell you how exciting it was for me to hear myself on a big movie screen in a packed theater at the premiere!
I'm from Washington, D.C. originially, but my family moved to Florida when I was 10 years old.  In my spare time I enjoy going to rock concerts, sporting events (football, baseball, soccer, hockey) writing, and just generally being around my close friends.  I also enjoy talking to the students we have from various countries and walks of life here at EC Miami.  It's amazing to me to see how much we've grown (from fewer than 20 students on our first day)!!  I'm looking forward to more!
Comments
comments