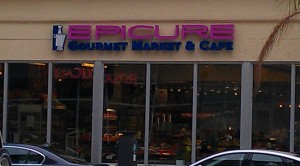 One of the biggest misconceptions students from other countries have about us here in the USA is that we survive on a diet of fast food.  But, nothing could be further from the truth!  Of course, there are many fast food options on Miami Beach (just like the rest of the world).  But it's just as easy to eat healthy food as it is to grab a greasy burger and fries.
It can be challenging to eat right, but we're very fortunate at EC Miami to have a gourmet market located directly across the street.  Ladies and Gentlemen, I present to you the Epicure market.  You can shop quickly for fresh food, baked goods, and even various candies from other countries.  Epicure makes fresh salads and sandwiches daily, as well as coffee and other drinks in their cafe (located in the back of the store).
Typically, I  grab one of their freshly prepared salads for my lunch break, and then hide out in the teacher's room with my iPod.  If it isn't too hot (or rainy), there's an area just outside on Lincoln Road where I sit and listen to music, eat my lunch, and watch all of the interesting people that pass by.  Anyone that has visited Miami Beach before certainly knows about the "people-watching" that can be done!
Burgers and fries are great — once in awhile.  But give Epicure a try!  It's closer …  and healthier!
Comments
comments