Congratulations to
Yannick Perritaz!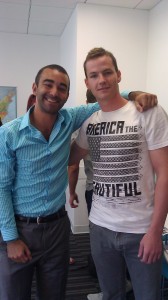 Low Intermediate
Student's Hometown
Estavayer-le-lac, Switzerland
Student's Miami Thoughts
Miami is great! I am really happy to have chosen Miami as a place to study English. Miami is very beautiful and you can do anything you want here. The people of Miami are very nice. You can meet many friendly people in South Beach and join them for a party if you choose to. So far, I'm enjoying my studies at EC. The teachers are very good and the atmosphere is really cool. The school is located in the heart of Miami and after a hard day of school you can relax on the beach. Since I've been in Miami, I've had many good moments and met great people.
Teacher's Comments
I nominated Yannick as student of the month because he is always on time to class, he has never missed a lesson, and he always shows interest and participates the most in our class. If he doesn't know or understand what we are learning, he will be the first one to ask a question. He demonstrates confidence and has been one of my biggest risk takers in class. It has been a great pleasure to have him in class thus far!
Comments
comments