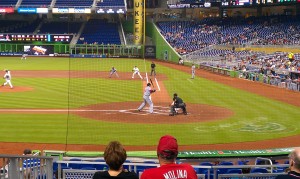 … sang John Fogerty many years ago.  ("Centerfield")
Jackie Robinson was the first African-American man to play in the Major Leagues.  Due to his legendary status, all teams in Major League Baseball retired his playing number, 42, as a way to honor him.  Every year, the MLB celebrates his legacy with "Jackie Robinson Day" — the one day of the year that '42' is unretired and all players wear it in tribute.  On this day, I went to Marlins Park to see the Miami Marlins take on the Washington Nationals and to celebrate the life of one of Baseball's true heroes.
Going to Marlins Park is easy, and a great way to spend an afternoon/evening!
A movie about Robinson's life, '42' is currently in theaters.
–Mark
Comments
comments