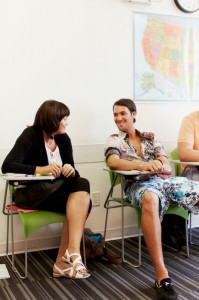 Being a student at our Miami English school doesn't stop at taking a course. EC gives you extra!
Have you heard of our weekly menu of academic workshops? They're good fun, popular and absolutely free.
Pronunciation Clinic: Your weekly chance to learn quick tips, pointers and secrets to practise and correct some common pronunciation difficulties. There are specialised sessions for different nationalities.
Chill and Chat: It's all in the name! Join a conversation with one of our teachers to discuss an issue or subject of interest on a weekly basis. See it as a great, additional opportunity for you to speak English outside of class, sometimes outside the school itself but always in a relaxed, pleasant environment.
Lecture Series: Held once a month, this series is there for you to practise listening skills in a real-life setting, under the guidance of a teacher, staff member or another native English speaker in the community. Take notes, ask questions and write an essay after the lecture – you won't regret a minute!
Tutorials: Tutorials are one-on-one meetings with teachers which take place every 3 weeks. We encourage you to take tutorials if you have studied for 3 weeks or longer. These meetings will allow you to express any concerns and to talk about your strengths/ weaknesses and what you'd like to work on or improve.
Reading Circle: Join our reading circle if you want to work on your reading skills in your General English core classes. Once a week, your reading circle teacher will discuss what you have read, go over new vocabulary and comprehension questions.
There are other free activities for you to participate in and enjoy, but we'll talk about them some other time, in the very near future!
For more information about our FREE Academic Workshops, contact us.
Comments
comments