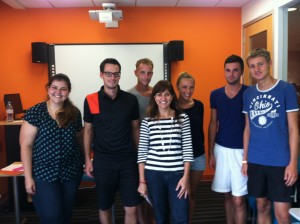 Isabel Rodriguez Saguar
FCE/High Intermediate
Teacher's Hometown
Madrid, Spain
Teacher's Miami Recommendation
I love to hang out at Panther Coffee in Wynwood. It's an excellent place to drink good coffee and prepare for my classes.  Gigi in Midtown is great for some Asian fusion food and is open till at least 3:00am every day, which is wonderful for those late night cravings and for some cheap drinks and food. You may see me at 100 Montaditos in Midtown on Wednesdays; everything is one dollar.
Teacher's English Tip
My advice for students is to have fun with it, get out there, mingle, meet new people, and loosen up. It is not all about grammar all the time. It is also about communicating and having a great time in sunny Miami.
Comments
comments