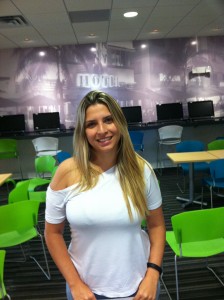 High Intermediate Class
Student's Miami Recommendation:
I recommend every student who have a chance to go to Key West. It's a wonderful city with beautiful beaches where you can go snorkeling. There you will also be in the southernmost point in the USA.
On Lincoln Rd you can find good restaurants for have lunch/dinner and also to have a happy hour with your friends! There you can also find a lot of stores!
If you are more interested in shopping Miami is the right place! In town you will find really good malls. The most famous is the Dolphin and Aventura Mall. If you are looking for good prices you can also go to Sawgrass Mills, near to Fort Lauderdale. It is a Outlet with more than stores.
If you want to go for a walk on SoBe, you should go to Park South Point, a nice park with a beautiful view!
Teacher's Comments
Heloisa is a great student, who really embraces learning English.  She is always willing to participate in class activities and truly makes an effort to use English in her daily life. In the time Heloisa has been my student, she has not only improved her grammar but her speaking as well.
Comments
comments