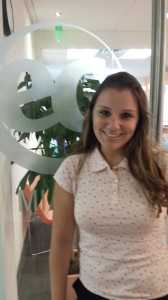 Ester Pechiai is one of our Intermediate students from Brazil.  She recently attended a lecture with the Miami Beach Police Department (MBPD).  This was Ester's winning essay!  — Mark
First of all, I have to say that I was surprised with this opportunity.  Sometimes foreign people like us commit a "crime" because we don't know very well the laws of the new country , such as drinking beer on the street for example.
When Officer Lamoca was talking about his job, I was thinking about education in my country.  We never had this opportunity to talk with an officer at school when we were children.  If we had gotten this, maybe Brazil would have spent less money on jails.
I was shocked that the most popular crimes here in Miami are related to alcohol, and it is important to emphasize that only people under 21 can consume or buy alcohol in Miami.  The most common tourist's mistake is to leave their stuff alone on the beach.  There are a lot of robbers just waitng for the opportunity to take your things.  Take care of your things!
The other important tip is always keep your eyes on your drink.  They put drugs in there and you can imagine what can happen after.
Ocean Drive is known too for the prostitution street.  Students can drive with an ID (if they are under 21 years old), but remember if you drink don't drive.  If you get caught maybe you'll pay $10,000.
The police station is located on 11th and Washington Avenue and in an emergency case you can call 911.
Comments
comments