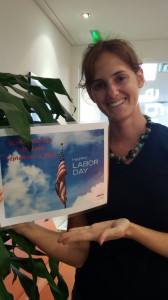 This week, many students have asked why school is closed next Monday (Sept. 2).  The answer: Labor Day!
In the US, Labor Day falls on the first Monday of September, so the date varies from year to year.  In the late 1882, the federal government established Labor Day is a way to celebrate "social and economic achievements of American workers" (according to the US Department of Labor).  As time has passed, however, many Americans have simply come to view Labor Day as the traditional end of Summer, and the beginning of Fall.
In the US, Labor Day is a federal holiday.  This means that all government offices, schools and organizations are closed.  Many businesses are also closed, while typically social businesses (shopping and restaurants, for example) remain open.  Americans generally view this as a day of rest.  Here in South Florida, it is very common to celebrate by spending time at the beach and/or barbecuing (don't forget your sunblock!).  Many people also travel, with that particular long weekend being one of the busiest of the year.
Labor Day also signals a change in activities.  School-age children typically return to school around this time, and the sports seasons also change.  Baseball starts to wind down, while Football and Hockey are starting!
Take advantage of the long weekend!  But most of all, be Safe!
Comments
comments