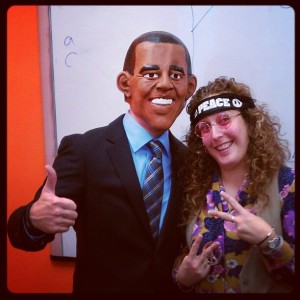 It's not often you're going to see President Barack Obama standing next to some flower child hippie from the 60's. But, last year at the end of October, that's exactly what happened for all the students in Miami that were studying English. Or, more to the point, two suspicious people that Resembled a hippie and the President.
Halloween is celebrated by children and adults here in the USA, and you can see from this picture (that's Mark, one of our teachers, as President Obama; Lynnette, our DSO, was the flower child), here at EC Miami we do the same thing. Students and teachers at our Miami English School all participated in the costume contest, and a great time was had at our Halloween celebration.
As always, Halloween is on October 31. Start planning your costume now — don't wait until the last minute! And if you've never done a Halloween costume before, take advantage!!
Halloween, it's not just for kids. Just those that are kids at heart!
Comments
comments