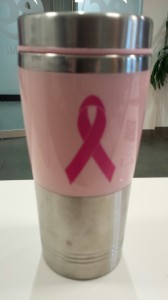 Students here at our Miami English School may notice that there is a little more pink in the month of October. No, it's not a new fashion trend, it's in recognition of National Breast Cancer Awareness Month. Worldwide, Breast Cancer counts for almost 25% of all cancer cases in women. Almost 500,000 deaths each year are due to this form of cancer, and in October there are many events to raise awareness, funds, and to encourage early screenings. After all, the earlier the disease is detected, the quicker treatment is able to start.
Time is, of course, of the essence.
One organization, Susan G. Komen for the Cure, is particularly active in the United States during this month, organizing 5K walks/runs in various cities, including Miami. All people of all ages are encouraged to participate, and it's all for women's health! More information about the Miami event can be found here.
And pink is encouraged everywhere! (The travel mug in the picture is mine — Mark).
Participate in the run.  Wear pink.  Get checked.  Get Educated!
Comments
comments