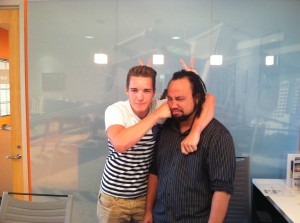 Our "Student of the Month" for the month of October is Heinz Heeb!
Hello, my name is Heinz. I have been here since the 30th of August. The reason I'm here is just to improve my English.
Miami is a nice place with a lot of things to do. You can go to the beach if the weather is good or when the weather is not so good there are a lot of shopping stores or malls.
Near Miami are some other nice places which you can visit with the school, like Key West, the Everglades, Bahamas, and Orlando.
I've really enjoyed my time in Miami to now. I met some new good friends from all over the world.
For going out at night it has a lot of beautiful clubs. Maybe the greatest clubs I've ever seen, but there are some disadvantages like some special dress code. And it's very expensive.
I regret nothing. I would do the same again.
If you have the possibility to come to Miami, DO IT!
Prospective students looking for a Miami English School should take Heinz's advice (as well as a cue from Nike) and Just Do It!
Comments
comments