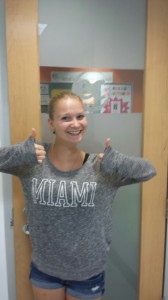 Many students here at our Miami Language School have taken advantage of the local skydiving school recently.  Vanessa Schorr (from Switzerland), one of our Cambridge students here at EC Miami went with a group of friends last Saturday.  Vanessa writes:
The best word to describe skydiving? Awesome! There is nothing comparable to it.
Shawn took me and eight of my friends from EC Miami to Skydive Miami. Most of us were incredibly nervous, others scared and then there where the ones that were just super-excited. Yes, I go definitely in the last section as you might see in the video. Actually, my instructor even wanted me to scream on the plane because I was "the calmest person I ever had to take for the first-time-jump".
The first 30 seconds of free-fall were incredible! You can't breathe, but you don't have to anyway because you are entirely fixed on your feelings. And when the parachute opens, and you glide back to the ground, the view is stunning! You can see the Everglades, the Keys and, as the weather was good, even some of Miami's skyline.
I would recommend skydiving to everybody! It is an awesome experience, you will have a lot of fun and when you touch the ground you probably want to do it all over again. Well, I'm pretty sure it wasn't the last time for me!
Great job, Vanessa!!  You can see Vanessa's skydiving video here.
Comments
comments