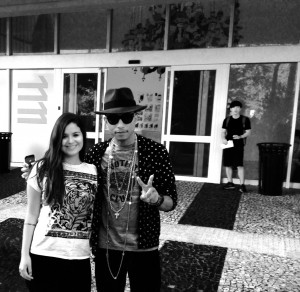 Fernanda Reis, a Brazilian student who is here at EC to prepare for her Cambridge exam, had a close encounter of the celebrity kind last week when she ran into Pharrell Williams just outside of the building. Pharrell is well-known in the hip-hop community for his work with the Neptunes, N.E.R.D., and his recent solo work. He's been heard all over the radio recently on Robin Thicke's single, "Blurred Lines".  As Fernanda explains:
I was having lunch when I saw him crossing the street. I was not surprised for me because many people I know had met him before here in Miami and I knew that I would met him also someday. But I was so exited because I think Pharrell is an awesome producer and singer! I asked Abdul to take our picture. He (Pharrell) was really nice and friendly to everybody, which made me admire him even more.
Learning English and Celebrity Encounters – just a day in the life of our Miami English School.
Special thanks to Fernanda for the picture!!
Comments
comments