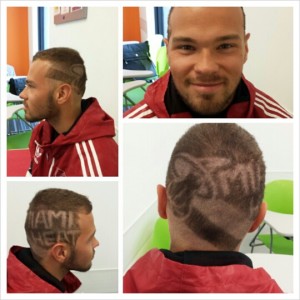 One of the newer students at our Miami English School, Giangiuseppe Torsiello (he goes by "GiGi"), made one of his dreams come true last weekend and went to his first Miami Heat game. As you can see, he is a SuperFan:
Saturday night I went for the first time to a Miami heat pre-season game against the San Antonio Spurs.
For that occasion I got a new haircut with the Miami Heat logo on the left side.
Going to this game was like a dream for me because basketball is one of my favorite sports and the Heat are my favorite team.
Also, three of my favorite players are Heat players:
Dwayne Wade and obviously Lebron James, the third is Rajon Rondo who plays for the Boston Celtics.
The game was cool, and I had a lot of fun, but it was just a pre-season game so the arena was half full and Lebron didn't play, that made me sad. But the Heat won and D-wade scored 25 points so I was almost happy.
At the break there was the cheerleaders show… well no comment haha. Plus at any timeout the DJ put on some music and the public started to dance. It's very funny with some cameras around the arena filming you and you will appear on the big screen.
It's totally another mind and a other type of public than the Swiss public in a soccer game for example, especially in my town, Lausanne.
I really like the atmosphere of the arena and the way the game was.
I can't wait for the begining of the season and I hope to have the chance to come back to see a game.
Let me know if you are interested :).
— GiGi
(High Intermediate)
Comments
comments