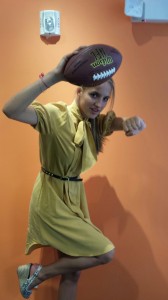 Here at our Miami English School, teachers and/or guests are invited to give an academic-style lecture on cultural interests outside of class.  Last week, two of our EC Miami teachers, Mark and Eric, spoke with two groups of students about Football.  Students wrote about the lecture, and a winner was chosen from each group.
The winner for the Low-Intermediate group was Elizaveta Shmakova from Russia:
Every day I learn more about American customs and traditions.  Sport is an integral part of American way of life.  A healthy way of life is fashion how everywhere around the world.  There are also many other sports that attract millions of Americans.  Probably, the most popular sport in the USA is football.  For me, it's a new sport.  Before this lecture with Eric, I knew nothing about American football.  I could never understand how football in America is different from Russian football, and what is soccer.  Eric explained that American football derives from rugby and soccer together.  It's a far more violent game which requires great physical power and endurance.
The objective of the game is to score points by advancing the ball into the other team's end zone.  The team with the most touchdowns wins the game and they are champions.
It's noticeable that watching the games on television with friends and family is a tradition.  Moreover, the fans dress in the colors of the team.  The American football league has 32 teams.  Each team represents a different city.  Each team has its own mascot.
This game is really interested me, so I decided to attend a game.  Last Sunday I went to football.  It was so exciting!
What did I learn?  Having a strategy or plan is important.  Teamwork can make us all champions.  Winning comes with dedication, hard work, and practice.
I think, these rules should be applied in real life.  That's why, I think, this game is very interesting an instructive.  It brings people together, teaches courage, and team spirit.
Comments
comments