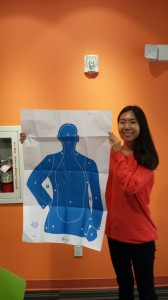 Minji Kang is not only one of our Student Ambassadors here at EC Miami, but she has also been preparing for her
Cambridge ESOL Exams
since she arrived last June.  Recently, she went with some friends to a local indoor shooting range for a new experience —  Target Shooting.  Minji writes:
Have you ever shot a real gun?
Sounds dangerous, but it becomes such an unforgettable experience with a lot of fun at indoor gun shooting range.
I went gun shooting with my friends last weekend. There are some places that you can try it in miami, and I chose one of them, which was near dolphin mall.
I had two different feelings while going to the place, excitement and fear. After I got there, listened to how to use the gun that I had chosen before shooting. Actually, I became more nervous at this moment, but it changed to excitement with loud sounds from other's shooting.
We got 3 paper targets and put them as far as we wanted, and shot them. It took less than an hour in my case, but normally depends on how many bullets you choose.
I would recommend trying it, because it's not an easy thing that you can try anywhere, anytime. I'm sure it's even better with friends, but most of all, it's a great way to get rid of stress!
Traveling to new places is all about trying new things and having new experiences.  Minji is a wonderful embodiment of this!!
Comments
comments