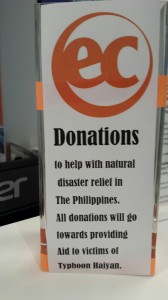 Last week, Typhoon Haiyan devastated the Philippines leaving thousands dead, and many more displaced without shelter, food, water, and clothing.  This story has blanketed the news over the past seven days, and resonates particularly here in South Florida, where hurricanes are part of the local culture.
Here at EC Miami, we have left a collection glass in the reception area.  Intensive students, Semi-Intensive students, students studying for Cambridge ESOL Exams, and teachers/administrators alike are asked to help out in any way they can, and donate what they feel comfortable with.
Our hearts and thoughts are with all the people affected by this terrible tragedy.
Comments
comments