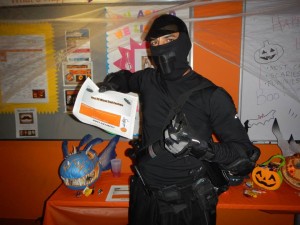 Students come to EC Miami for many reasons.  Some are here to study for their Cambridge ESOL exams.  Others opt more less intensive courses —  and everyone takes advantage of the scenery and nightlife options available in Miami and Miami Beach.
November's Teacher of the Month, Eric Brown, is one of the teachers that you may encounter during your time here.  Eric has recently been spending a lot of time with our exam prep students, and last Halloween won the prize for "Best Staff Costume" for his Ninja outfit!
Teacher's Hometown:  Colorado Springs, CO
Teacher's Miami Recommendation:  "Art Basel — world-famous international art show with exhibition spaces all over the city."
Teacher's English Tip:  "Make all of your sounds in English — even your screams!  Leave the TV on at night when you go to sleep.  Dream in English.  When you wake up, you might remember something.  Finally, forget your native language completely.  You won't be needing it anymore."
Thanks and Congratulations to our Ninja teacher, Eric!
Comments
comments