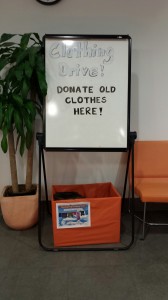 Many students come to EC Miami for an extended period of time. Students that are preparing for their Cambridge ESOL Exams, for example, spend around three months with us brushing up on their skills and then take the test at the end of their time. One of the perks of coming to South Florida for so many students is, other than the beach and nightlife, the Shopping.
Ah, shopping. The promise of arriving in a country with two suitcases and needing Five after buying all the clothes and shoes that your heart desires. The necessity to pay extra fees on your flight going home because of all the extra baggage. Why complicate things?
This year, we are collecting clothes that students and staff don't wear any longer to donate to local charities here in South Florida. Everyone is encouraged to drop off any clothes they don't want anymore in the box that has been placed in the lobby. Don't worry about filling the box — we can get more!
Comments
comments