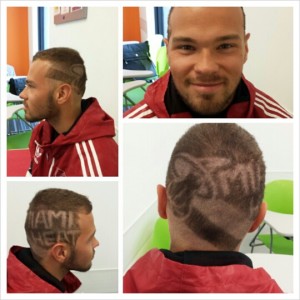 Some of you may remember Gigi, who recently wrote about his experience of seeing the Miami Heat for the first time.  Get ready to hear from him a lot more, because Gigi is the newest Student Ambassador at EC Miami English School!  Let him introduce himself as only he can:
My name is Giangiuseppe but I go with Gigi. I come from Switzerland, the French part, and I am also Italian.
I am here for improve my English and live a new experience in a country that I really like. I choose Miami because of the weather, the beach, the night life, and especially because of the basketball team, the Heat that I am a big fan of.
I am friendly, funny, a little bit crazy (in a good way), generous and helpful.
I like sports, especially basketball, soccer, football and dance. 
I like to participate to the soccer club, the salsa club and I am the captain of the basketball club.
I am a big hip hop fan, but I can also listen to house, reggeaton, rock..
Also, I really appreciate to do some activities with other students, old and new, like karaoke, dinner in some american traditional restaurant, and obviously my weekend starts on Wednesday, but I never miss a day of school.
I decided to be a student ambassador because I will stay here for 4 months more, and I have been here since 2 months ago, I already know the town and the different things to do and to see.
I particularly like the human contact and I am sociable so it will be a pleasure to introduce the new students to our wonderful school and to this amazing town.
If you have some questions, don't hesitate, Doctor Gigi is here.
Any questions?  Call "The Doctor!"
Comments
comments