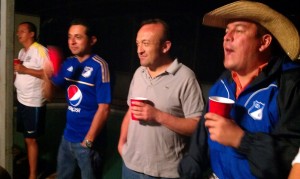 It's time for the holidays!  The last month of the year is a festive time for many of us in the United States.  It's a time for friends and family, a time to be with the people we love and care about.  Here at the EC Miami English School, it is certainly no different.
As a child growing up outside of Washington D.C., my family would often have many people over during the holidays.  It would start with Thanksgiving, when we had at least 20 people over for the traditional Thanksgiving dinner.  On my birthday, my parents would have my friends over for cake, ice cream, and games to celebrate.
Having people over is a nice way to relax and share time with others.  But holidays aren't the only reason to have someone over.  Perhaps you want to have some people over to simply watch a game or have a casual meal.  When people move, they might have others over for a housewarming party (or even have friends over to help with painting and organizing the new house!).  Dec. 31 is a very popular time to have people over to celebrate the coming of the New Year.
When you have people over, you simply invite people to visit your home.  When was the last time you had friends or family over to visit?
— Mark
Comments
comments