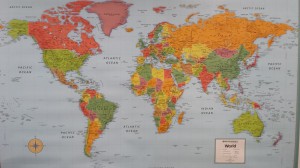 Happy Holidays!!
Here at the EC Miami English School, many students (and teachers alike), are planning to travel during the holiday break.  Our school will not have classes the week of December 23, and many people may be curious how they will be able to travel if they are on an F1 visa.  Remember:
Every student on an F1 student Visa are required to be in class studying a minimum of 18 hours per week in order to maintain their status in the United States.  In addition, students must maintain a minimum of 80% attendance (the list is in front of Elisa's office at the end of Wednesday every week in case you are wondering what your attendance status is).  Students with this visa are also only able to have a session break once per 12 weeks in the country.  These breaks can last for a maximum of two weeks.  However, if the student is going out of the country he/she may go for up to five months, and doesn't not have to wait the customary 12 weeks of study in order to take it.
Some Important Notes:
— If EC has a two-week December break, students may not add on to that break (unless they are travelling to their home country — see above). If EC has a one week student break, students may add only one week on to that break.
— Students who will depart the US on break MUST provide proof of their departure with a flight confirmation or ticket, their passport and I-20.
— Provided student has all documents it will take UP TO 24 HOURS to return signed documents to students.
—  I20s must be signed by either Lynnette or Amanda.  There are NO exceptions to this.
Of course, one of the reasons the attendance report is posted every Wednesday is precisely because it is important to stay in status!   It's as simple as going to the classes that you have paid for!  Irregular attendance causes problems with session breaks, transferring, as well as with Immigration.
Remember, here at EC Miami, we want our students to be able to make the most of their time here, both socially and educationally.  If you go to class regularly and as expected, then you will have no problems going where you wish!
Comments
comments